FOR PERSONAL TRAINERS, COACHES, THERAPISTS, AND ALL FITNESS AND HEALTHCARE PROFESSIONALS
Go paperless with FitSync, the original PDA<•••>Web personal training software (US Patent #5,944,633) that connects you with your clients anytime, anywhere.
"FitSync has enabled me to offer face-to-face and online fitness training in a personalized way that keeps my clients coming back for more. It's the only software that offers handheld and Web-based accountability. FitSync gives me all the tools I need to stay connected with my clients, wherever they are."
Stephen Holt, ACE, ACSM, NASM, NSCA
ACE Personal Trainer of the Year, 2003

Be Efficient
No more lost files, mangled notebooks, missing workout cards, or dog eared print outs. Download and log workouts on your PDA and then upload to the Web for review and analysis. Quickly and easily access client records anytime, anywhere.
Save Time
Stop wasting time cutting and pasting workouts into emails or manually logging workouts on the Web or into spreadsheets. Pick workouts from the FitSync libraries or create your own in minutes and build your own private exercise and workout library. Log workouts in seconds on your PDA anywhere – you don't need a constant Internet connection with FitSync.
Stay Connected
Each of your clients gets their own personal FitSync.com account to log all of their activity. This means you can monitor their fitness activities even when you aren't training them face to face. Forget emailing workouts that your clients have to print – FitSync lets you send workouts to your clients' mobile phones or PDAs so they can easily log everything they do.
Train More Clients
With FitSync, you aren't limited to the clients you can see face to face. Between appointments or at the end of the day, monitor and train clients online. With FitSync you can train an extra 5, 10, or even 20 clients a day.
Be a 21st Century Personal Trainer™
FitSync helps you reinforce your commitment to your clients by becoming part of their total fitness lifestyle, not just what they do with you in the gym. Wherever they are, whatever they're doing, your clients know you are with them, helping them reach their goals.
Show Clients Their Results, Demonstrate Your Value…
Faster new client setup with PARQ and client questionnaire/assessment on your PDA or online.
Log workouts on your PDA during PT sessions, clients log on their handhelds when training on their own.
Monitor client performance remotely with detailed charts, trend-lines, and advanced analysis.
Clients can see their progress through their personalized FitSync homepage.
Click thumbnail to view larger version
…AND YOUR CLIENTS WILL LOVE IT!
Your clients get 24/7 access to their workouts and exercise videos on their handheld and the Internet.
Clients can download and log workouts on their handheld or print a workout log.
When clients can see their own progress they stay motivated and committed.
Clients will see the results you're helping them achieve… and they'll love you for it!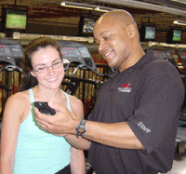 Stephen Holt,
ACE, ACSM, NASM, NSCA
ACE Personal Trainer
of the Year, 2003
HERE'S WHY FITSYNC IS THE CHOICE OF THE TOP PROFESSIONALS WORLDWIDE…
We're the first, the original, and the only handheld<•••>Web fitness training system (US patent #5,944,633).
All inclusive pricing includes unlimited data storage on the Web and unlimited number of client accounts.
We DO NOT compete with you because we do not offer personal training services.
We help you find clients with our Find-a-Trainer service.
You have complete flexibility in creating your own exercises, workouts, and multi-week programs and you can upload your own videos.
Private branding options - FitSync can be customized with your logo and color scheme to boost your Web presence and reinforce your brand.
SIGN UP TODAY! WITH FITSYNC PROFESSIONAL YOU GET:
FitSync Professional Web account with unlimited storage.
FitSync Professional software for your Windows Mobile® PDA.
Unlimited number of client accounts
Are you a club/facility owner or do you manage other trainers? Learn how FitSync can help you manage your entire personal training operation more efficiently. Contact us at info@fitsync.com.